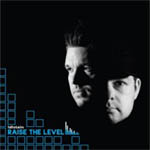 The new double CD of !distain called Raise The Level was released and in the bonus CD came with my remix of "Mandragore" which are right now in MySpace.

I also was invited later to remix the song "The League" to one of his side-projects but unfortunately I don't had enough time to work in another remix on that time. Maybe next year.

I did a remix to Christopher Anton which is the new vocalist of Information Society, "This Is Where I Am" will be released soon as a single of his new solo project, and my remix is available for listen at his MySpace to who want to take a look.

My remix of the song Realize from James D. Stark waits the release of his remix album, and probally is one my best works.



To finish the year added to MySpace 3 unreleased remixes, the extended version of "Burning Bridges" by Information Society, the balad "Mandragore" by !distain and my remix of "We Are Lovers" by Camouflage, which was chosen by the band of one of the best entries of the remix contest last year. Aside that I remade the album preview track to fit in just one MP3. The bigger version is still available here and at Fiber Online.



Talking about Fiber Online, was added the full version of my remix of "History Forecast" by Chinese Theatre with !distain, which was released in the CD like was track #13 when in fact is the track #14.

A little excited with the results of my game project I started a new smaller one that reach a success a lot bigger than I imagine, which make me build a site about him and my other projects in the game area. You can get more info at www.mods.hajas.org.