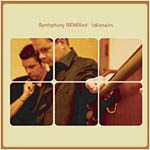 First sorry for the lack of update in the last months, but I've been very busy.

My Remix of "Remote Control" to my friends from !distain was released at 01.Mar.2006. It's a limited album to 1000 copies, which is receiving great reviews, where people are saying that my remix is one of the best.

I was invited too by !distain to do a remix to the swedish project Chinese Theatre, which have them as a guest in one of their tracks.



The remix of "History Forecast" is already done and is available to listen online the full version at MySpace Music.

And sice we are talking about !distain, I already started my 4th work with the band, but that's all that I can tell you right now.

While that I'm still working in my next remix album, where I already got few more great bands confirmed.

In this meanwhile I entered in a remix contest to enter in the next album by Virtual Server, remixing the song "The Earth" where have the vocals by Reagan Jones from Iris. More information at DJ RAM's Page.